Stephen Collum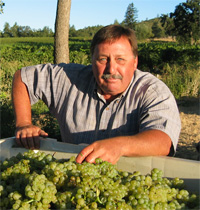 After obtaining a degree in biology and a period of fighting fires in the Sierras, Steve followed his love for the outdoors and interest in wine by enrolling in the Viticulture department at California State Fresno. Steve graduated in 1981, and returned to firefighting long enough to fall in love with and marry a dispatcher. Cynthia. Unable to find vineyard work in the Yosemite area, Steve and his bride moved to Sonoma County and began managing numerous vineyards, culminating in a position running the vineyards for St Francis.
In 1991 Steve established Vineyard concepts; a consultation company specializing in the design and installation of trellis systems. All of his hard work and achievements did not go unnoticed. He was hired by Kendall Jackson in 1993 to farm and develop choice properties in Napa Valley and the Sonoma Coast. His association with Kendall Jackson took him to Tuscany, to assist in the development of a property in Southeast Chianti. It was in the rugged hills outside of Siena that Steve recalled his days fighting fires in Calaveras County, and upon his return he decided to begin looking for vineyard property in the foothills. He found a lovely 20 acre piece of land near San Andreas in 1996, planted it to Sangiovese, and 2 years later left Kendall Jackson to begin life in the Sierra Foothills.
Steve started farming the vineyards of Indian Rock in January of 2004. His grape growing experience, combined with considerable knowledge of grape varieties and soil types has produced immediate results. As Indian Rock believes that great wines start in the vineyard we feel very fortunate to have one of the best managers in the state as part of our team.