Welcome to Indian Rock Vineyards!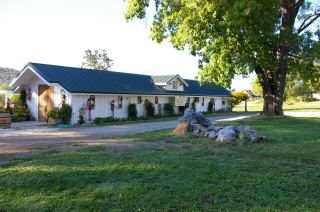 Indian Rock Vineyards was established with the simple belief that great wine can only be made from great fruit. For this reason, all of our wine is made exclusively from grapes farmed on our Estate. Our unique property gives us the ability to match the many varieties we grow to the appropriate conditions of soil, climate and exposure, collectively known as "Terroir". This ensures that each wine achieves it's greatest potential, and that the wines together express a family character; "a sense of place". At over 2000 ft of elevation, our climate enjoys both warm days and cool nights and our natural springs provide our vines with fresh artesian water throughout the year.

"From our Estate to your glass, without compromise….."

We welcome you to enjoy our wines as you journey through our vineyards and take in the splendor of the views and peaceful surroundings.

Steve Collum, our esteemed and affable vineyard manager, has a great passion for Italian wines, and suggested this variety to us a few years ago. Our fourth vintage shows all the reasons the Italians like this variety so much. Crisp and clean, with pineapple, lemon, and apple aromas, the wine shows both liveliness and complexity. Our Vermentino is a great companion to oysters, fried calamari, and all fish dishes.




Our little block of Chardonnay has been producing great wines for 20 years. Planted on their own roots and grown in some of the best soils on our 40 acre vineyard, these vines consistently produce ripe, distinctive and balanced wine. In 2011, with a few years of experience under our belts, we decided to go all out in pursuit of quality: whole-cluster pressing, fermentation in French Oak (35% new) wild yeast, and aging on the lees for 9 months. The result is a Chardonnay of great charm, balance and intensity